Our Services
---
Wood Stake Manufacturing
With nearly half a century of experience as the Houston-area leader in stake manufacturing, Concrete Contractors Supply of Texas is uniquely positioned to assist you in an all of your wood stake needs.
Redwood Headers
We have the capability of manufacturing custom redwood headers. We can make them from 1x4 to 1x12 any size wingloads or flatloads on any centers. We can custom rip any size top strip and plastic sleeves. We can custom make them to fit your needs.
Rebar Fabrication
But that's not all. We also run a rebar fabrication unit. We supply many popular shapes as a matter of course, but we also have the expertise to design and fabricate custom products for your particular needs. Let us know what you want and we'll be happy to make it for you.
Delivery Services
It probably goes without saying, but we take great satisfaction in our ability to deliver whatever you need -- wherever you need it. We deliver our products throughout the Houston and Greater Southeast Texas area, regularly traveling upwards of 75-100 miles to get you the concrete construction products you need for your job site. Click here to see our extended service area.
Portable Toilets
We are a fully equipped portable toilet company. Featuring Poly-John portable toilets rated the best in the world. Delivery, set-up and cleaning of toilets provided to your job site or special event. In addition to standard portable toilets, we also have 250 gallon tanks for your construction site office and handicap accessible portable toilets. We have a number of trucks and trailer mounted service devices to clean your portable toilet on a weekly scheduled route.
Dumpster Rentals
Are you looking for roll-off dumpsters for your next construction project? CCS is here to help. We maintain 20, 30, and 40 cubic yard dumpsters and provide full service throughout Montgmomery County at competitive rates and on your timetable. Give us a call and we'll walk you through the process, helping you figure out the quantity and size you need, and delivering to your project. No hidden charges, no delays, and no excuses. Call us today.
Other Services
CCS is happy to provide materials estimation services (take off) for your next concrete construction project. We can also recommend a concrete finishing service in your area. So, from planning to construction to finishing, Concrete Contractors Supply of Texas has you covered. Give us a call today at 936-441-9513, or drop us a line by email. We look forward to adding you to our ever-growing list of satisfied customers.
Rebar Fabrication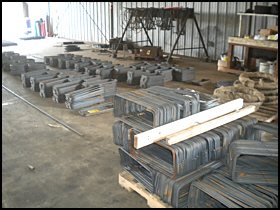 We can fabricate rebar to suit the custom needs of your particular project. We keep plenty of popular shapes in stock, too.
Portable Toilets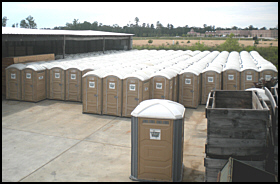 CCS maintains a large stock of clean, modern portable toilets, ready for delivery to your construction site or outdoor event.
Dumpster Rentals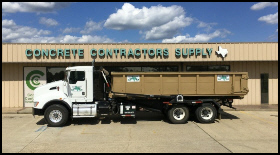 CCS provides full-service rentals of 20, 30, and 40 yard roll-off dumpsters.