Our Products
---

Concrete Contractors Supply of Texas is the one-stop source for all of your concrete contractor needs. Below is just a sampling of the comprehensive product line in our stockyard, warehouses, and on our shelves. If you don't see what you need, it doesn't mean we don't have it, just ask. We look forward to serving you.

SONATUBE
Cardboard Column Tubing

CONCRETE CHEMICALS
Form Release Agents, Curing compounds, Sealers & Hardeners, Muriatic Acid

EPOXIES
Grouts, Bonding Agents, Patching Compounds, Mortars,
Joint Sealants

GROUTS
Non-Shrink, High-Strength, Epoxy, Dry Pack, Anchoring

BAGGED PRODUCTS
Concrete Mix, Lime, Sand, Portland Cement, Grouts

JOINT SEALANTS
Polyurethane, Polysulfide, Silicone, Epoxy, Chemical Resistant Polymers

CONCRETE TOPPINGS & COATINGS REPAIR & PATCHING PRODUCTS
Latex Bonding Agents, Underlayments, Vertical, Overhead

SLAB & DECK PRODUCTS

STAKES
Pine, Redwood, Metal, T-Post

STEEL PRODUCTS
Rebar, Wire Mesh, Tie Wire, Bar Ties, #9 Wire, Smooth Dowels, Stirrups, Corner Bars, Loops, Custom fab materials

EXPANSION JOINTS
Asphalt, Fiber, Redwood, Flexible Foam, Expansion Board Cap, "G-Seal" Capseal, SL-1 Self-Leveling Joint Sealant

CARTON FORM
Rectangular

FOAM BOARD

CONCRETE COLOR
Dust-On, Integral, Pattern Stamps, Chemical Stains

WATERPROOFING
Vapor Barriers, Mastics

WATERSTOPS
Waterstops, Thermoplastic Rubber, Synko-Flex

PAVING PRODUCTS
Redwood Headers, Centerstrip, Bricks, Paving Chairs & Rebar Supports

CONCRETE PLACING & FINISHING EQUIPMENT
Electric Vibrators, Vibratory Screed, Generators, Mortar & Concrete Mixers, Water Pumps, Power Sprayers

FASTENERS
Nails, Anchor Bolts, Wedge Anchors, Drop-Ins

LUMBER & PLYWOOD
Dimension Lumber (SYP & Treated), CDX Plywood, Redwood, Masonite, Plyform

POLYETHYLENE
We stock poly in 2 mil, 4 mil, 6 mil and 10 mil, available in various widths and lengths

HAND TOOLS
Shovels, Floor Scrapers, Scoops, Sharpshooters, Rakes, Brooms, Brushes, Hammers, Chisels, Tape Measures, levels, Pliers, Pry Bars, Hand Saws, Bolt Cutters, Side Cutters, Screwdrivers, Snips, Pipe Wrench, Pick Mattock, Squeegees, Post Hole Diggers, Rebar Cutters & Benders, Tools from Hitachi and Bosch

CONCRETE TOOLS
Floats, Trowels, Groovers, Edger's, Darbies, Screeds, Fresnos, Concrete Drill Bits, Metal Cutting Saw Blades, 14" El Toro Diamond Blades

RAINWEAR
Coats, Jackets, Overalls, 3pc. Rain Suits, Rubber Boots

SAFETY SUPPLIES
Gloves, Vests, Flags, Goggles, Traffic Cones, Dust Masks, First Aid Kits, Safety Glasses, Orange & Green Barricade, Caution Tape, Wire Flags, Safety Fencing, Ear Plugs, Flagging, Facesheilds, Hard Hats, Welders Goggles, Safety Belts, Gas Cans

MISCELLANEOUS SUPPLIES
Wheelbarrows, No Flat Wheelbarrow Tires, Batteries, Grease (tubes), Grease Guns, Hand Cleaner, Lumber Crayons, Water Hose, Buckets, Water Coolers, Drink Mixes, Chalk Lines, Reels & Chalk, Plumb Bobs, Tape, Carpenter Aprons, Nail Pouches, Knee Pads, Rubbing Rocks, Tie Wire Reels, Paper Towels, Toilet Paper, Spray Paints, Sprayers

CULVERTS
Black corrugated and reinforced concrete culverts

. . . and MORE!
Tools, Hardware & Supplies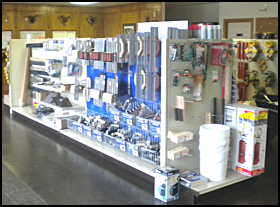 Our store is fully stocked with everything you need for your project, including tools and hardware, surveyor supplies, and much more!
Full Service Stake Mill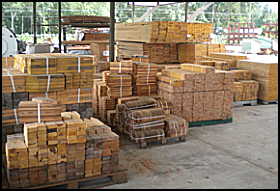 At Concrete Contractors Supply, we manufacture and maintain a plentiful stock of lumber products, including stakes, redwood headers, and more.
Ready Mix Concrete Products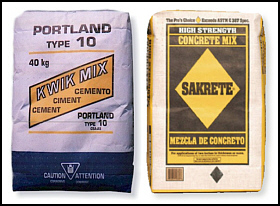 We're always fully stocked with enough ready mix concrete products for your construction project, including Portland Cement, Sakrete, and mortar mix. Give us a call ahead of time to have your order ready for pick-up. Or we can deliver directly to your job site!